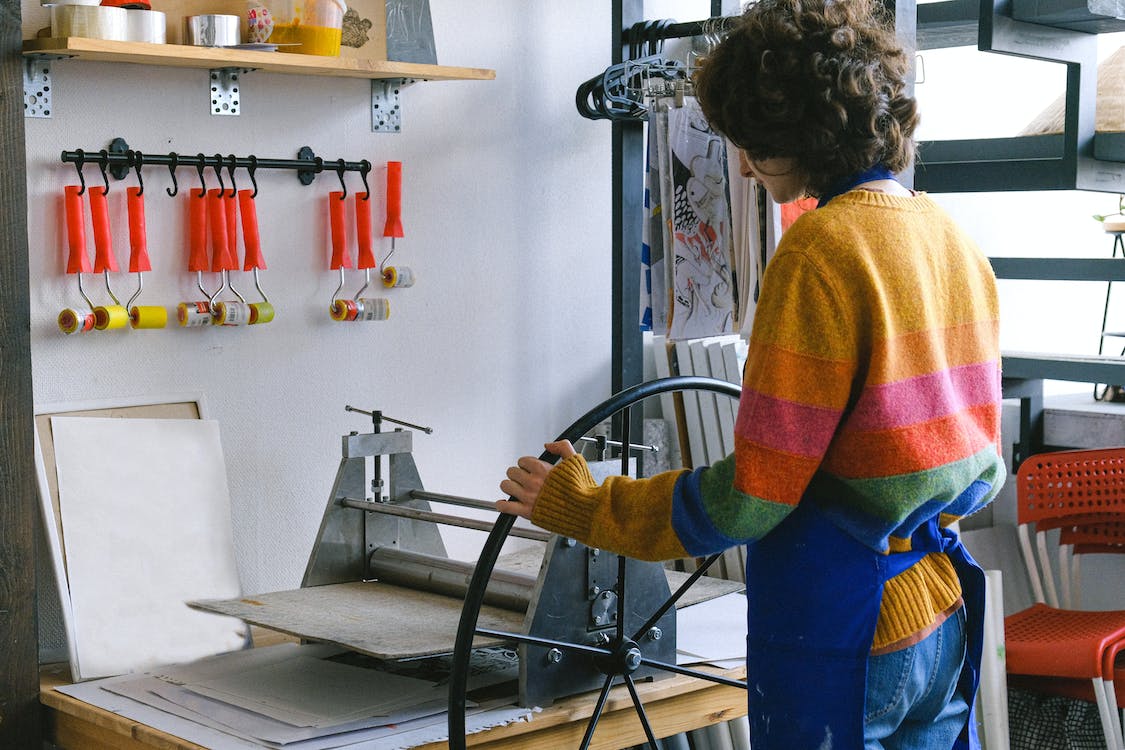 Although flex printing business is not only beneficial in the printing business Ideas, but all types of printing work whether it is related to printing wedding cards, making sign boards or any other printing, when it comes to Start a flex printing business in 2023, it is considered to be a great way to print and install outdoor advertising.
That is to say, companies, political parties, individuals or any other organization have their banners printed in flex and put them in billboards, unipolar, etc. so that they are able to spread it through it.
This is the reason that at present flex printing business is being done by some entrepreneurs in almost every city and a good profit is also being earned by entrepreneurs by doing this business, despite all this, due to the increasing demand for such a service, more such units can be set up in the city.
Start your Paper Carry Bag Making Business in 2023
Top 20+ Village Business Ideas to Start in India 2023
How to Earn Money by Becoming a Delivery Partner in Zomato 2023?
What is Flex Printing Business?
If we talk about Flex, it is a PVC i.e. a sheet of polyvinyl chloride which is mostly used for high quality digital printing. Since this type of sheet is used to make outdoor billboards and banners, it is more quality and more spaciously than handmade banners etc.
At present, due to competition in various products, parties, institutions, etc., everyone is competing to move ahead of each other in every field and outdoor marketing i.e. big banners and hoardings in roads, bridges, flyovers, shops, shopping malls affect the minds of customers.
Some new companies also use such advertisements just so that more and more people recognize their brand or product. Keeping in mind these needs of companies, institutions, political parties and individuals, when such work is done by an entrepreneur, then this work done by him is called Flex Printing Business.
Flex printing business running probability
As far as the market potential of flex printing business is concerned, we can guess it from the fact that when we go out on the streets every day, we have some banners on everything, whether it is a metro station, shopping mall, roadside, billboard, unipole. All of these banners or most of the banners have flex printing.
Companies not only print such banners for marketing their products, but various local and national political parties also print such banners on different occasions. Apart from this, all the institutions in the country, whether they are educational, non-governmental, government, all of them must print some banners on their events.
That is to say, the use of such banners is increasing with the passage of time, now they are being used by people on various auspicious occasions such as birthdays, anniversaries, whether of individuals or in any institution and other social processes.
How to Start Dog Grooming Business in 2023?
How to Start T-Shirt Printing Business in India in 2023?
Electronic Gas Lighter Making Business in 2023
How to Start a Flex Printing Business in 2023?
Although the biggest investment in the flex printing business is the expenditure on various machinery and equipment, at present, there are various types of flex printing machines available in the market, out of which the entrepreneur can start a business by selecting them according to his budget and business plan, but apart from all this, entrepreneurs also have to take other steps to do such a business. It is as follows.
1. Prepare a business plan
To start a flex printing business, the entrepreneur must first create a business plan in which almost all the activities of the business and future goals will also be mentioned.
That is to say, this business plan includes everything about the business such as the type of business, nature, location, way of running the business, market survey, product and service, sales and marketing, competitive analysis, financial plan, estimated cost and estimated earnings etc.
2. Manage finances
Now if the entrepreneur has made a business plan for his flex printing business, then the entrepreneur must have known the estimated cost of his project, so now the entrepreneur should manage the finances according to his project report. He can manage finance by taking loans under many government schemes such as Pradhan Mantri Mudra Yojana, Prime Minister's Employment Generation Program etc. or by taking loans under other schemes of the bank or through angel investors.
3. Choose the right location for the business
Now if the entrepreneur has managed the finances for his flex printing business, then the next step can be to choose the location for the entrepreneur's business. However, this type of business does not require any special type of location, that is, this type of business can be easily run from any location in the city. But still if the entrepreneur wants to choose a good location? So he can read our article.
4. Register your business
Although registration with the ROC is not mandatory for doing such a business on a small scale, registration under the Shops and Establishment Act can be mandatory for doing this type of business, so the entrepreneur should ask the local authorities such as municipal corporations to get information about other local registrations. Contact the municipality, municipal corporation, district industry center etc.
Apart from registration under the Shops and Establishment Act, if the annual turnover of the entrepreneur is more than 20 lakh and in some special states is more than 10 lakh, then GST registration is also mandatory in this case.
5. Buy Machinery and Equipment
After registering a business for your flex printing business, the next step of the entrepreneur should be to buy machinery and equipment and flex etc. At present, there are different types of Flex Printing Machines in the market, apart from this, the entrepreneur can also import machinery and equipment from China etc.
6. Appoint staff
The entrepreneur should start the flex printing business on a small scale in the initial stage, for this the entrepreneur may have to hire about 3 employees, one graphic designer, another machine operator and the third office boy can be less helpful. As far as the entrepreneur is concerned, he can handle client relationships and billing etc. Or if the entrepreneur himself is a graphic designer, then he can work with only two people in the initial stage.
7. Promote your business
As we all know that these days the success of a business cannot be imagined without promotion, so the last but most important step of the entrepreneur should be to promote his flex printing business. You may have to run a campaign on Facebook, etc.