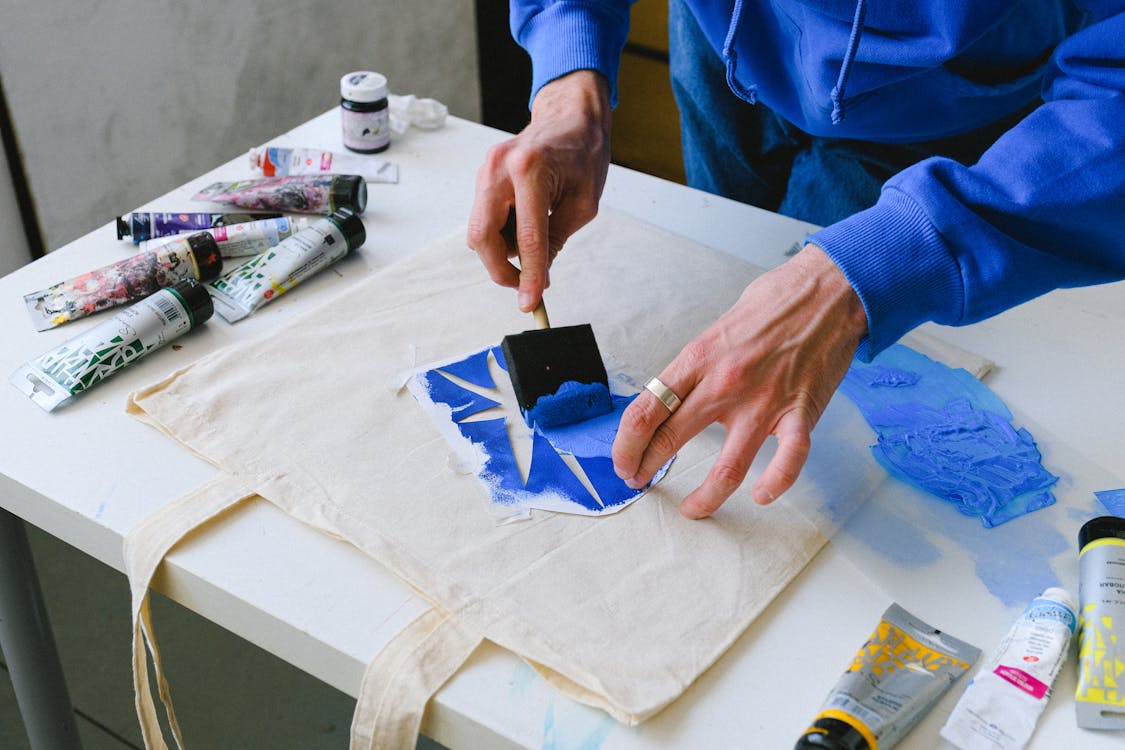 Textile printing refers to printing any design on fabric that cannot be made by embroidery/weaving. That is, a design on the fabric that cannot be prepared by embroidery or knitting, that design can be prepared through printing.
In the textile printing process, the process of designing, scouring, bleaching, etc. is completed before printing in the fabric. That is to say, before printing in the fabric, it is prepared by wetting it with various processes so that printing can be done well in it.
In order to maintain the attractiveness and marketing of clothes in this fashion era, textile printing is done in almost every type of clothes such as T-shirts, shirts, children's clothes, sarees, salwar suits, sheets, curtains, etc. This type of printing can also be done easily, especially through screen printing, one-color printing in clothes or designs made of different colors.
While designing the printing, special care is taken of the color combination, so that the attractiveness and quality of the fabric can be improved.
So if you want the textile printing you do to improve the attractiveness and quality of the fabric, then you also have to use the raw material or printing material used in this process of good quality. Customers will never like printing that fades in color or goes out of the fabric.
Start your Paper Carry Bag Making Business in 2023
Top 20+ Village Business Ideas to Start in India 2023
Will the textile Printing Business do well?
However, no matter what the business is, it is not easy to make a profit by running it successfully and more importantly, staying in the market for a long time.
Therefore, no matter how experienced an expert is about a textile printing business or anyone else, he cannot guarantee that that business will run. But he can definitely review the opportunities available in the market for that business.
At present, textile printing has become much better quality than before, and it also works to bring innovation, creativity, attractiveness in the fabric. That's because there are currently advanced printing machines, better quality inks, and advanced technology than ever before.
And this is the reason that textile screen printing has become much cheaper than before, which also provides better printing and many other uses at a lower cost.
This is the reason that in today's fashion era, printing clothes are sold a lot in domestic and foreign markets.
Printing done with good design and good color combination in clothes attracts people towards clothes.
How to Earn Money by Becoming a Delivery Partner in Zomato 2023?
Top 10 Best Electrical Business Ideas for 2023
Are there quality controls and standards set for this business?
There is no doubt that the quality of textile printing done in the fabric should be very good. Good quality means that when the fabric is washed, dried, and rubbed, the printing should be maintained in the fabric. It should not happen that the printing has faded, or gone out, after washing.
If the curring or steaming process is done well during the printing process, and the ink or color used in textile printing is of good quality, then this problem does not occur.
However, no quality control and standards for such printing have been prescribed by BIS or any other authority. But it is very important to have a good printing quality of the fabric.
Land and building requirements
How much land and building will be required will depend on what the entrepreneur's textile printing capacity will be. If the entrepreneur is planning to set up a plant that prints about 25000 sarees, and 12500 printed fabrics per year, then it may require at least 400 square meters of land and a building.  In about 325 square meters of space is required for the covered area, which is as follows.
Factory roof – 200 square meters
Store for raw materials – 50 square meters
Store for goods produced – 50 square meters
For office construction – 25 square meters
What machinery and raw materials are required for textile printing?
It would also be to be clarified here that the quantity of machinery and raw materials may vary depending on the production capacity of the plant. The list of machinery used in the textile printing business is as follows.
Long wide printing table with AC top
Rubber Squizer
Cottage Steamer
Open-mouthed jigger
Cylinder Drawing Machine
Baby Baylor
Wash Room Trolley
Dye Paste Wearer
Measuring instrument
Bore wells and water storage tanks
List of raw materials
Bleached muslin cloth
Various dyes
gum
Chemicals and their accessories
Thikner
Packing Material
How the textile printing process is done?
In this process, the process is completed in not one but several steps, preparing the printing paste, preparing the fabric for printing, fixing the dye, steaming, washing, folding and packing etc. are the main steps of the textile printing process.
First of all, the purchased muslin cloth is thoroughly inspected to see if the cloth is of good quality and not torn.
After that the cloth is spread evenly on the printing table.
And now the design screen is placed on the spread cloth and the prepared dye paste is pressed on the screen with the help of a rubber squeezer. However, now this method of textile printing may have changed to digital, which will be different from this process.
Although which dye and glue will be used in the printing of which fabric, it depends on the fabric's manufacture and its end use.
After printing, the steaming process is completed on the fabric on which the printing is done, so that the printing remains stable.
After that the excess dye is removed from this cloth for finishing, and then after washing and drying it, folded and sent for packing.
How much will it cost to start a textile printing business?
The cost of starting a textile printing business mainly depends on the size of the unit. If you set up a unit with more capacity then there will be more cost and if you want to start this small business then it will cost less.
On a small scale, this business can also be started with an investment of 6 to 8 lakh rupees. By comparison, Rs.6-8 lakh is not such a huge amount. This amount can be managed by the interested entrepreneur from his savings.
But still, if the entrepreneur is short of funds to start a textile printing business, then he can also raise funds for his business through banks and private investors. A well-detailed practical project report can help the entrepreneur to get a loan from the bank.