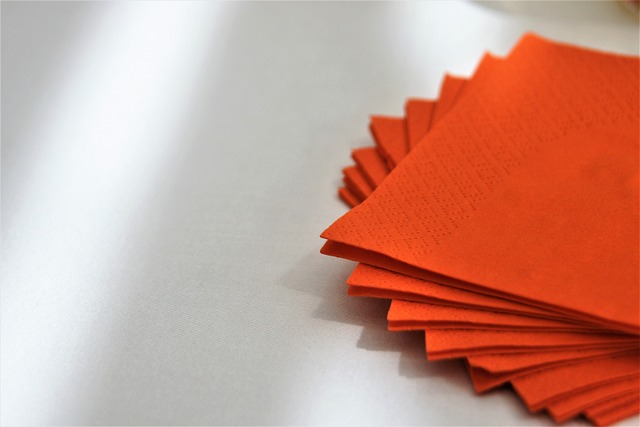 Talking about Paper Napkin Making business in 2023, in the beginning, it can be easily implemented on a small scale by 2-5 people. Tissue paper i.e. Napkins has become an item that is being used everywhere such as restaurants, streets, office canteens, and washrooms. Starting a paper napkin-making business requires less manpower than other businesses.
As far as the paper napkin-making machine is concerned, it is easily available in the market at a price of 4-5 lakhs, which is the main and biggest expense in starting this business. According to the entrepreneurs who are currently doing paper napkin making business, electricity cut and lack of skilled manpower are their primary problems, but despite these problems, they are still trying to take their business to new heights.
Some companies that make and sell tissue paper-making machines also train entrepreneurs to operate it. Apart from this, if the entrepreneur wants, he can also take training by joining the National Small Industries Corporation (NSIC) Incubation Training Program.
Start your Paper Carry Bag Making Business in 2023
Top 20+ Village Business Ideas to Start in India 2023
How to Earn Money by Becoming a Delivery Partner in Zomato 2023?
What is the Business of Making Paper Napkins?
You must be aware of paper napkins, if not, then know that you can call a paper napkin a piece of tissue paper, which is used to wipe or clean hands and mouth. Due to the use of many types, paper napkins were more popular in the business related to food.
But at present, in view of their usefulness, they are also being used everywhere such as offices, hotel dhabas, homes, school colleges. Right now they are mainly used in all types of canteens and all types of washrooms.
By paper napkin business, we mean the process of earning money by an entrepreneur, when he is making them and selling them in the market. That is, the commercial manufacture of paper napkins is called paper napkin-making business.
Probability of Selling Paper Napkins
This product called Paper Napkins was previously used only in the food business and was mostly seen on the dining table. At present, due to changes in people's eating and lifestyle, it has also found a place in the working table and washroom of an office boss. Now it is not necessary that you will get to see tissue paper only in hotel dhabas or on any street.
Go to the washroom of any office, go to the boss cabin of a company, or go to any office canteen, and you will see this item called Napkin.
From all these things, you can guess what are the possibilities in the Indian market for the paper napkin-making business. Big companies like Pizza Hut, Domino's Food Sector, etc. make customized paper napkins in their name, so the entrepreneur has equal opportunities to do business with a similar big company.
How to Start a Paper Napkin Business at Home?
By the way, before starting a paper napkin-making business, the entrepreneur should meet the entrepreneurs who are already earning money by doing this business. So that the entrepreneur does not know anything else, he will know about the difficulties in running this business, etc.
As we have mentioned in the above sentence, while buying a tissue paper-making machine, one thing must be asked from the suppliers whether they will give training to the entrepreneur to operate the machine, apart from this, the entrepreneur can also join the NSIC Incubator Training Program if he wants.
You can also start your Paper Bag Making Business at Home.
1. Select a location for Paper Napkin Business:
While selecting the location, the entrepreneur will have to take great care of the availability of raw materials, because the entrepreneur will need tissue paper 21 GSM as a raw material. Therefore, it is necessary to analyze its availability and its price in the respective area. If the entrepreneur wants to start a paper napkin-making business in rural areas, then he has to buy raw materials at a lower price because the end customers of paper napkins are in cities than in rural areas.
Therefore, if the entrepreneur buys raw materials at a higher price, his manufacturing costs may increase, and in delivering the product to the end customer, the price of his product may be higher than the products available in other markets, which will not be in line with this competitive market.
By the way, the entrepreneur can maintain a balance in the manufacturing cost through manpower cost etc. because workers in villages are available at a lower wage than in cities. Therefore, whether the entrepreneur selects the location in the rural area, or in the cities. There must be basic facilities like electricity, water, roads etc.
2. Rent a place to start a business
Since the entrepreneur should start with a tissue paper making machine in the beginning, in the initial phase, any shop i.e. 8-10 thousand rent shop will also run, in which there is enough space that the entrepreneur can keep raw materials and finished goods in addition to the machine. And also set up a table to keep an account of your daily transactions.
And as the entrepreneur's business grows, he can increase both machine and space. While renting a place, one thing must be kept in mind that in official work, documents are asked for not the language. Therefore, the entrepreneur should make a rent agreement while renting the place, so that he can register his paper napkin making business at the same address.
3. Get license and registration for Paper Napkin Business
Although the work of making paper napkins in India is also done by the unorganized sector, but at present, the government has started many schemes such as Single Point Registration Scheme etc. to encourage MSMEs.
Now the entrepreneur should register his business in the Registrar of Companies under Proprietorship or One Person Company, contact the local body like Municipal Corporation and District Industries Center to find out what formalities he has to complete to do this business, it can also be a wise decision to take NOC from the State Pollution Control Department.
Apart from this, the entrepreneur may also have to apply for PAN / TAN etc. for his business. If the entrepreneur wants, he can also register his business in the industry base.
4. Prepare a Business Plan
Whatever the business is, it is important to evaluate its goals and the steps taken to fulfill them from time to time. Imagine that a goalless man who is constantly moving and walking does not know what will happen to him where he has to go. Without a business plan, the same is the case with business, whether the business is successful or failing.
But in the absence of this, the entrepreneur is struggling to find out where his business is going, and what necessary steps he needs to take. Therefore, the entrepreneur should make a business plan for the paper napkin making business on a half-yearly or annual basis, and analyze it from time to time, if necessary, take the appropriate decision.
5. Buy the necessary machinery and equipment
The machine mainly used in the paper napkin making business is the napkin making machine. Which has the capacity to make about 1200-1500 napkins in a day, this type of machine is available in the market at different size, weight and price. Apart from this, the entrepreneur may also have to buy testing equipment, hand tools, etc. Machinery suppliers must be talked to about training to operate machines.
6. Hire Workers
Paper napkin making business can be started by hiring one skilled worker, two unskilled workers, 1 pantry peon and a supervisor. Therefore, the entrepreneur should select and hire an experienced person who has worked in this business or in any other manufacturing unit before.
However, if the entrepreneur has a lack of budget, then he can start production in his factory by hiring freshers who have the desire to learn and train them to operate the machine.
7. Marketing and selling tissue paper
In the initial days, production and marketing can prove to be better keeping in mind the demand of the local market. In the initial days, selling your product to a retailer or whole-seller is full of difficulties, because they are already selling a product that is already available in the brand market.
Go to hotels, dhabas and offices in your area where you think paper napkins are used more and try to attract them on the basis of the quality and price of your product. Even if you have to give a demo for free, give it. Because once the quality and price of your product are liked by people, then understand that no one can stop your paper napkin making business from being successful.
As we have said before, we are still saying that there will be so many difficulties in the beginning that the whole-seller or retailer may be reluctant to pay by selling your entire goods.You can use various marketing methods for the more successful marketing of your product.
An entrepreneur doing paper napkin business must contribute in encouraging local people to plant trees. Because the raw material used to make paper napkins is made from the pulp of trees, trees are important for living beings, so we should keep in mind that we not only have to cut trees, but also plant as much as possible, only then the world will be able to run in an orderly manner.
Demand for tissue paper is constantly increasing in the world markets
As we all know that loans are also being provided by the Government of India under the Pradhan Mantri Mudra Yojana to set up small enterprises in the country. Not only the Mudra Scheme but there are many other schemes, under which financial help is given to set up a small business.
Paper Napkin is also one such product, whose demand is increasing in global markets over time. In European and cold climate countries, tissue paper was already being used a lot. But now its use in India is also increasing continuously.
This is the reason why entrepreneurs who are currently doing the business of making paper napkins. They are also earning a lot from this business.
Due to the increasing consumption of this product in the country and also due to the full opportunity for export, if you want, you can set up your own paper napkin making plant. And the good thing is that compared to other businesses, the cost of starting this kind of business is also low.
How much will it cost to buy a paper napkin making machine?
If you do not know, then you would like to tell that there are such platforms like IndiaMart and Trade India etc. Where you can see the list of suppliers of raw materials and machinery and their price. According to a supplier present on IndiaMart, two types of machines are used to make paper napkins.
The first machine is semi-automatic, it is cheaper than the automatic machine. A semi-automatic paper napkin making machine that can produce 100/500 pieces in an hour. Its price is said to be around 5 lakh rupees.
While the second automatic machine, which has a production capacity of 2000/2500 rolls per hour, is priced at Rs.11-12 lakh. Therefore, it is entirely up to the entrepreneur to decide which machine he uses for his business.
How much will it earn?
According to the information, by setting up a small plant of Paper Napkin, the plant will have the capacity to produce tissue paper of about 1.50 lakh kg in a year. His annual turnover can be more than one crore rupees. Because tissue paper can be easily sold in the market at Rs 65 or more per kg.
However, we all know that turnover does not mean that you will earn more than one crore rupees in a year. In fact, in a turnover of one crore, you can save 9-10 lakh rupees a year by removing all expenses.
Will I get financial help or loan from somewhere?
No one will give you 100% loan of your project cost. So first of all, you should know how much fund you can raise yourself for your paper napkin business. If you want to apply for a loan under the Pradhan Mantri Mudra Yojana to start this kind of business.
So you should have about 3.5 lakh rupees of your own capital, only then a bank or financial institution will be able to provide you a term loan of up to Rs 3.10 lakh and a working capital loan of up to Rs.5.30 lakh under this scheme.